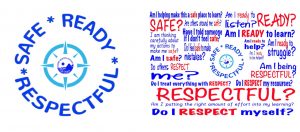 Be safe…
Our school is a safe place to learn - if we choose to be safe! To be safe we will think carefully about actions that will affect our safety or the safety of others. We will always make sure adults know if we do not feel safe and we know they will listen to us. We know that to learn well we must feel safe to make mistakes. We know that someone will help us make sense of those mistakes so we can learn well.
Be ready…
School is a place where we learn. We need to choose to be ready to learn, be ready to make mistakes and arrive with a 'can do' attitude - knowing if we can't do 'it'... we can't do 'it' YET and we will soon if we work hard. We are ready to listen, to think, to reason and to challenge. We are ready to help and be helped. We are ready to struggle and ready to grow as learners and citizens in our community.
Be respectful… (being considerate of others and thinking about how you affect a situation)
Respect is earned but we understand that we can give it for free. At CMPS we show respect because we aspire to be good citizens who lead the way. We understand that to be respected we must respect others. We understand that we can all learn something from everyone. We respect the effort put into learning and know that we all face challenges that are different to our friends and colleagues. We must respect the value of our environment, our locality and our community, as well as the physical resources that make up our school and classroom. We treat everything and all with respect.
Attitudes to learning; Character Development Policy

Click here to download a copy of our policy.